Bell Bottom, starring Akshay Kumar, was released in theaters this week which are kind of Bollywood Movies must watch. The long-awaited action thriller has received good reviews from reviewers, and if you like it as much as we did, there are a slew of more comparable films available on Amazon Prime Video and elsewhere that you can binge at home all Hindi movies. While some of them include the action hero himself, they are all very similar in terms of scripting, action, storyline, and narration to his most recent film Bell Bottom.
Let's jump right to the top of the list of great Bollywood movies –
1. Airlift
Akshay Kumar plays Ranjit Katyal, a businessman who becomes the sole chance for more than 170,000 Indians stranded in Kuwait under Saddam Hussein's dictatorship. The initial operation, which was inspired by the true story of Mr. Mathunny Mathews, was carried out by Air India best Movie, which earned it a place in the Guinness Book of World Records as the civil airline that assisted in the evacuation of the greatest number of people. This is one of the Bollywood movies must watch.
2. Neerja
While we're on the subject of plane hijackings, here's another film to watch. Neerja is a biopic about Neerja Bhanot, a chief purser on Pan Am Flight 73 who halted a terrorist attack theme and gave her life to protect her passengers. Sonam Kapoor, who plays the title character, gives one of her greatest performances to date. Keep an eye out for Jim Sarbh, who plays one of the terrorists in the film.
Read More- UPCOMING WEB SERIES AND MOVIES RELEASING IN SEPTEMBER 2021
3. Aiyaary
The film contains all of the elements of a thriller espionage film: a spy, an intelligence agency, suspense, and plenty of action. When compared to previous espionage films based upon the revenge theme, however, it follows a slightly distinct plot. Jai turns on his superior and threatens to bring down the government in these Hindi movies. His mentor is thus compelled to work against his own spy.
4. Phantom
Phantom, one of Saif Ali Khan's underappreciated films, is an action thriller based Movie on Hussain Zaidi's novel Mumbai Avengers. The film follows a RAW agent who is tasked with assassinating all of the culprits of the 26/11 Mumbai terrorist strikes. The audience is captivated throughout the Hindi film due to the abundance of action and emotion.
5. Ek tha Tiger
There are few espionage films that are better than Ek Tha Tiger. It was the first time the successful duo of Salman Khan and Kabir Khan collaborated on these Hindi movies. It portrays the narrative of Tiger, a RAW agent who falls in love and begins to doubt his country's devotion. Despite the fact that its sequel, Tiger Zinda Hai, was not as brilliant, this film remains one of Salman Khan's greatest and top Bollywood movies.
6. A Gentleman
A Gentleman fits the bill if you enjoy films centered around the protagonist, as Bell Bottom is essentially a one-man show with the dialogue "Chess me do player nahi hote." The action movie contains numerous turns that will keep you glued to the screen. The comedy is also uplifting, but the action is a no-no. Gaurav Kapoor's life is turned upside down when he meets his lookalike, an undercover spy. This causes havoc not only in their life but also in the lives of those who are close to them.
7. Dus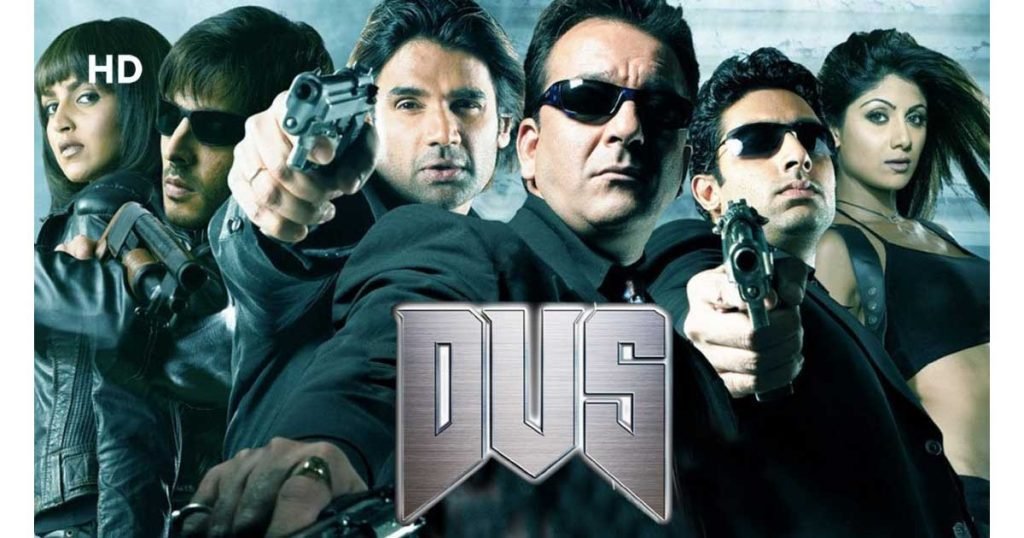 Sanjay Dutt, Suniel Shetty, Abhishek Bachchan, Zayed Khan, Shilpa Shetty, and others star in this film, which has an entertaining plot and an ensemble cast that includes Sanjay Dutt, Suniel Shetty, Abhishek Bachchan, Zayed Khan, Shilpa Shetty, and others. It depicts the efforts of a group of police officers to prevent a terrorist assault. It is based on the valiant efforts of officials from the Indian Special Investigation Team (SIT). Dus is one of the films you must see if you enjoyed Bell Bottom.
8. Special 26
Everything was going swimmingly until a real CBI officer entered the picture and followed them to prevent them from carrying out their next theft. This battle between phony and real CBI officers will keep you guessing until the very end, making it one of the most difficult stories twists to figure out. Special 26 stars Akshay Kumar, Anupam Kher, Manoj Bajpayee, Divya Dutta, Jimmy Shergill, and Kajal Aggarwal and was one of the highest-grossing films of 2013.
9. Baby
This action thriller, directed by Neeraj Pandey, contains an ensemble cast that includes Akshay Kumar, Taapsee Pannu, Anupam Kher, Rana Daggubati, Kay Kay Menon, Mikaal Zulfiqar, and Danny Denzongpa. Following the discovery of a series of terror acts, a counter-intelligence unit known as 'Baby' sets out on a quest to apprehend the criminal mastermind before it's too late. The film was a commercial success, and it prepared the door for a spin-off starring Taapsee Pannu, Prithviraj Sukumaran, and Manoj Bajpayee, titled Naam Shabana.
10. Naam Shabana
If you liked Bell Bottom, you'll enjoy Baby. If you like Baby, you'll enjoy Naam Shabana, a prequel to the 2015 film. This film, starring Taapsee Pannu, is about a young Mumbai girl who is recruited by a secret government agency. Prithviraj Sukumaran, a Malayalam actor, plays the villain in this movie and provides fantastic performance.