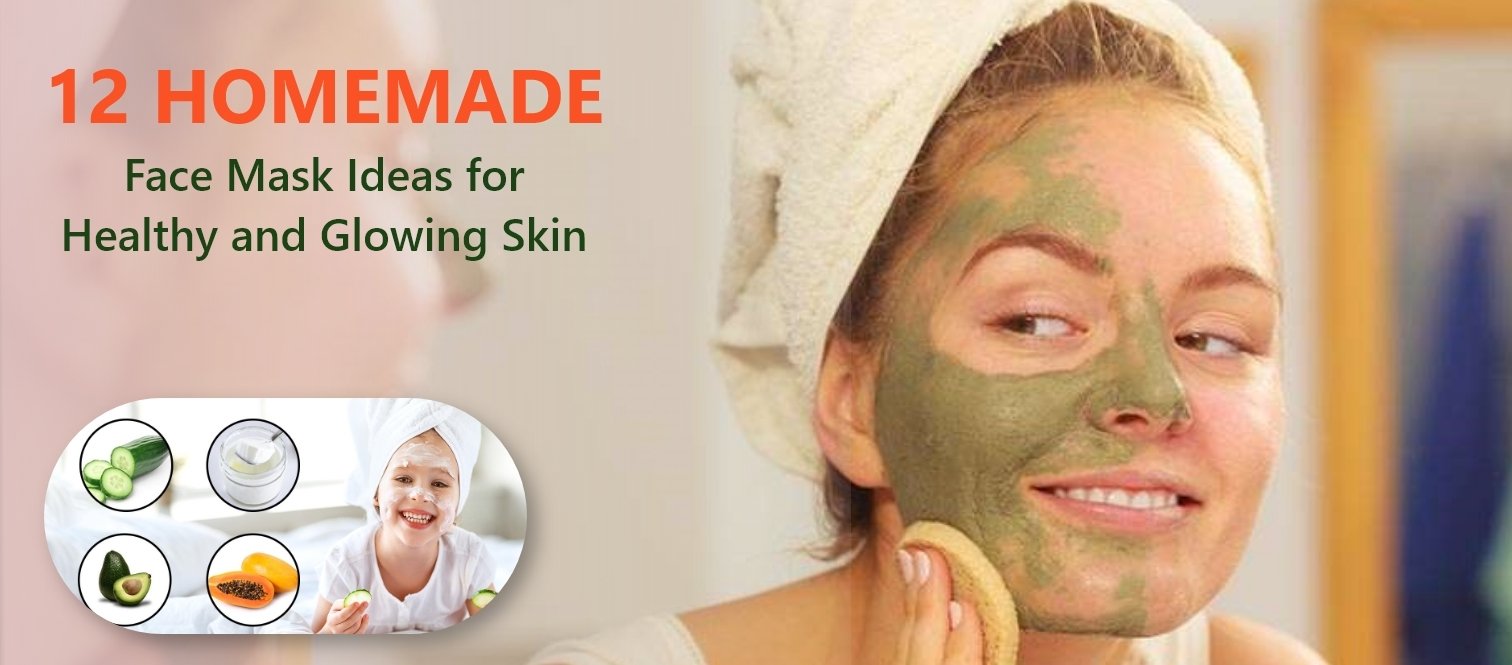 Do you miss salon visits and hours of pampering your skin at the spa? Well, many of us are. But does that mean you shouldn't take care of your skin? No way! So what if the salons are closed? Instead, go to your kitchen and look for some wondrous ingredients that can work miracles for your skin. Don't worry! We have done the homework for you and summarized 12 amazing homemade face masks that are packed with skin benefits.
Aloe Vera Face Mask 
The original natural sunburn soother, aloe vera, has several skin-healthy benefits: It can be used as a foundation primer, makeup remover, moisturizer, and even a scalp treatment for irritated follicles
Ingredients
1 tablespoon aloe vera gel
2 tablespoons milk cream
A pinch of turmeric
Method
Mix all the ingredients to form a paste-like consistency.
Apply this evenly on the face and neck.
Leave it on for 20-30 minutes and then rinse with lukewarm water.
Honey And Milk Face Mask
Honey is used in this mask because of its anti-inflammatory, antibacterial, and soothing properties. Milk softens and nourishes your skin, giving it a natural glow
Ingredients
4 teaspoons milk
2 teaspoons honey
Cotton ball
Method
Warm the milk slightly and mix it with honey.
Apply this mixture on the face with the cotton ball while it is still warm.
Now, let it get soaked into your skin for at least 10 minutes. You can leave it on for about 20 minutes.
Wash off with lukewarm water first and then with cold water
Papaya face masks
Because it is high in vitamin A and C, papaya can be extremely beneficial to the skin. It also contains papain, a special enzyme that fades dark spots, blemishes, and cures skin impurities
Ingredients
A small piece of papaya
1 teaspoon honey
Method
Mash the papaya and add honey to it.
Apply this directly on the face and wait for 15 to 20 minutes before rinsing it off with lukewarm water.
Turmeric Face Mask
Turmeric is a natural anti-inflammatory, and it is one of the most commonly used ingredients in homemade masks. This spice's medicinal properties aid in the reduction of blemishes and the maintenance of flawless skin.
Ingredients
1/2 teaspoon turmeric powder
1 teaspoon baking powder
1-2 teaspoons rose water
Method
Mix the turmeric powder with the baking powder.
Slowly add the rose water and mix until you get a smooth paste.
Apply this pack on your face and leave it on for five minutes.
Wet your fingertips and massage your face in gentle circular motions to remove dead skin. Keep massaging for a few minutes.
Rinse with lukewarm water first and then with cool water. Pat dry.
Besan Face Mask
Besan is renowned to remove dirt and toxins from deep within the body; it aids in the absorption and removal of excess oil from the face, and it does not dry out the skin. It also controls moisture and keeps the skin supple.
Ingredients
2 tablespoons besan (gram flour)
1 tablespoon milk cream
1 teaspoon lemon juice
Method
Mix the ingredients to form a paste. You can add some water to get proper consistency if required.
Apply this paste on the face and neck, and leave it on for 15 to 20 minutes.
Rinse with cool water
Avocado Face Mask
Avocados, in regards to being scrumptious, are high in healthy fats. Combining this with the antioxidants in honey and the natural oils in almonds will provide your skin with the moisture boost it requires.
Ingredients
A quarter of an avocado, mashed
Two tablespoons of honey
Two tablespoons of finely ground almonds
Optional: Swap one tablespoon of honey for one tablespoon of sweet almond or jojoba oil
Method
Mix the avocado, honey, and ground almonds into a smooth paste. The smoother you can mash the avocado, the easier it will be to spread on your skin.
Apply to your face with your fingers, and leave it on for 15-20 minutes.
Rinse with warm water and a washcloth.
Oatmeal face mask
Due to the dust and pollution that it is subjected to, skin requires exfoliation to remain healthy. Exfoliating with this simple scrub can keep your skin looking young and prevent wrinkles
Ingredients
2 teaspoons oatmeal
1 teaspoon honey
2-3 teaspoons milk
Method
Mix the oatmeal and honey with the milk to get a paste.
Apply on the face and leave it on for 20 minutes.
Rinse with water
Rosewater and sandalwood face mask
Rosewater will function as a toner, while sandalwood oil and milk will hydrate your skin. This pack restores the skin's natural pH level.
Ingredients
Rosewater
1 tablespoon of sandalwood powder
Method
Add the rose water as needed to the sandalwood powder.
Create a paste and apply it to the face and neck.
 Leave it on for 15 to 20 minutes.
 Wash it off with water.
Multani Mitti Face Mask
Multani mitti enhances its anti-acne properties and hastens the healing process. Multani mitti, when used as a scrub, can peel away dead skin cells and eliminate blackheads and whiteheads, leaving skin with a healthy and natural glow.
Ingredients
2 tablespoons Multani mitti (Fuller's earth)
1 tablespoon tomato juice
A pinch of sandalwood powder
A pinch of turmeric powder
Water
Method
Thoroughly mix all the ingredients and add a little water to make a smooth paste.
Apply this paste on the face and neck evenly.
Rinse after 10 to 15 minutes with lukewarm water.
Cucumber Face Mask
Cucumber is an organic astringent that aids in the tightening of pores. This simple mask will revitalise your skin.
Ingredients
All you need is a cucumber
Method
Grate the cucumber and blend it into a paste.
Apply this paste to your face.
Keep it on for 15 minutes.
Wash off with water and pat dry.
Moisturize as usual.
Banana yogurt mask
Banana, which is high in vitamins and nutrients such as carotene, Vitamins E, B1, B, and C, works miracles for the skin, making it look dazzling and youthful. It strengthens connective tissue and keeps the skin's elastic properties.
Ingredients
2 bananas
2 tablespoons of hung curd
1 tablespoon honey
Method
 Take a mashed banana and mix well with two tablespoons of hung curd and 1 tablespoon of honey.
Make sure that all the ingredients have been mashed properly.
Apply it all over the face and let it dry.
Wash your face after 30 minutes with cold water.
Tomato & Cucumber Face Mask
The Cucumber and Tomato Face Masks will help you achieve Radiant Skin. Tomatoes contain substances that kill the bacteria that cause acne and pimples to spread. Cucumber is a great way to cool down. It gives the face a healthy glow by rejuvenating the skin..
Ingredients
1/2 Ripe Tomato
1/4 Cucumber
Method
Wash and peel your 1/4 cucumber.
Blend it to a fine pulp with 1/2 tomato.
Apply the mixture to your skin in a gentle circular motion.
Let it sit for 15 minutes.
Rinse.
Wrapping up – 
Glowing skin is a strong indicator of good health. It's no surprise that face masks have become increasingly popular in recent years. Masks can help hydrate the skin, remove excess oils, and improve the appearance of pores. Furthermore, they aid in the removal of impurities.
Try these DIY easy homemade mask ideas and get that glowing and flawless skin you always wanted.