For  Indians Diwali offers come with different options, Home Cleaning Hacks, one of the largest and most ornate Hindu celebrations, is a highly exciting time. It's also a particularly hectic period for us ladies, particularly in the run-up to Diwali Clean home hacks. Cleaning, cooking, decorating, and other responsibilities abound. And we're sure that most of you worry about Diwali Cleaning Hacks every year because there seems to be so much to clean in such a short amount of time. We've put up a list of cleaning suggestions that you can use before the event to relieve some of your stress.
However, You may celebrate Diwali in a cleaner and greener manner without sacrificing the festivities if you put up a little effort. Here are seven easy but practical strategies to have a green Diwali in 2021.
Diwali Cleaning Hacks: Cleaning Tips for the Home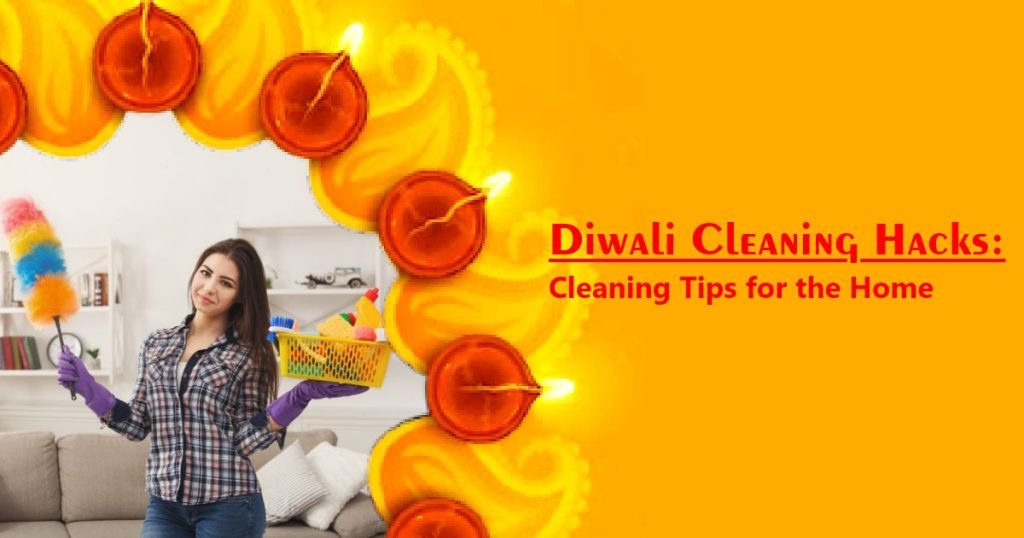 Cleaning your house for Diwali is a time-consuming task. Because planning makes all tasks easier, you can tidy over the weekend. During this period, you can enlist the assistance of other members of the household. Assign time-consuming activities to your male family members, such as removing cobwebs or cleaning fans, to make things easier for you.
1. Use Lemon Juice to clean Microwave
Lemons are acidic by nature, making them excellent cleaning agents. If you're going to make Diwali snacks in your microwave, you'll have to clean them more often than on previous days. In a 20ml glass of water, squeeze half a lemon. Mix thoroughly.
"This Pre Diwali Cleaning hack is best for microwaving the water on high power to bring it to a boil. Allow it to sit for about 10 minutes. Inside your microwave, the moisture will settle evenly."
Wipe all inner surfaces clean with a gentle cloth or tissue paper. For even better results, add a tablespoon of white vinegar to the mixture. In the microwave, this mixture also eliminates any odors.
2. Essential oils for a sparkling toilet
Essential oils for a sparkling toilet suggest making a DIY toilet cleaner with essential oils. 15 drops tea tree essential oil and 15 drops lemon or orange essential oil in one cup baking soda Allow 30 minutes for the mixture to rest in the bowl before scrubbing with a bowl brush and flushing.
Read More- DUSSEHRA 2021: दशहरा क्यों मनाया जाता है महत्व , जानें शुभ मुहूर्त और पूजा विधि
3. Dust only with cloth dusters.
This is one of the best Diwali Cleaning Hacks. The cloth was a solution to all surface cleaning requirements before plastic cleansers were introduced to the market and in our regular cleaning routines. Instead of using paper tissues or napkins, use wet or dry cloth dusters. Make duster out of those textile scraps; this eliminates the significant carbon footprint that goes into producing tonnes of clothing each year. They can be easily cleaned and reused for a longer period of time, and they are significantly less expensive than purchasing paper rolls on a monthly basis.
4. Disinfectants should be used abundantly.
This is a wonderful Diwali Cleaning Tips to remember even for cleaning up after Diwali. After completing all of the aforementioned steps, wipe all surfaces clean with a light disinfectant solution. Cleaning electrical gadgets, on the other hand, should be done with prudence.
5. Grout Cleaning with Baking Soda and Hydrogen Peroxide (Between Tiles)
Every woman's nightmare comes true when it comes to bathroom and kitchen tiles. Cleaning kitchen tiles may be a difficult task after enjoying the culinary binge producing Diwali snacks and sweets. This Diwali Cleaning Tips- pouring grout between the tiles gathers filth, oil, and other sticky substances that become embedded so deeply that they are nearly impossible to remove. So, how do you go about Home Cleaning Hacks? Take roughly a spoonful of baking soda and mix it with hydrogen peroxide to get toothpaste-like consistency. Scrub the lines between your tiles with an old toothbrush or a cleaning brush dipped in water. It won't take long for the grout to disappear!
6. Clean the Mattresses
Mattresses, like anything else, require regular cleaning. You can vacuum it to remove the dust, but cleaning for Diwali alone may not be the best answer. Clean your mattresses with baking soda and vinegar during Diwali. Fill a spray bottle with vinegar and squirt it all over the mattress. After that, sprinkle baking soda over and let it sit for a few hours. After that, carefully brush it off or vacuum it. This hack also helps get rid of dust mites and odors.
7. Polish your brass ornaments
Brass is lovely, but it tarnishes quickly Home Cleaning Hacks. Use a mixture of vinegar (12 cups), salt (1 teaspoon), and flour to clean your brass gods, vases, and lamps. You might also use a chemical cleaner like Brasso.
8. Organize Your Clutter
Decluttering Ideas for Diwali is a crucial aspect of the cleaning process. And many people mistakenly believe that this equates to 'discarding' unusable products, which eventually wind up in landfills, adding to the waste load. Instead, look for non-governmental organizations (NGOs) and organizations that are involved in the recycling and up-cycling of plastic and other debris. Consider constructing up-cycled art decorations for your homes, such as self-watering plant pots made from plastic bottles or lighting and lamp decor made from glass bottles.
9. Remove carpet stains with vodka
This cleaning trick can be done with rubbing alcohol, clear vodka (which has a lot of cleaning benefits! ), or even white wine. Blot the stain first. Second, pour any clear alcohol (rubbing alcohol, vodka, white wine) directly into the stain; this is preferable to any over-the-counter treatment.
10. Final words
After you've completed all of the Cleaning Activities for Diwali listed above, the final step is to decorate your home! This is the simplest and most enjoyable task to partake in throughout any festive season. One piece of advice we can offer is to avoid any decorations that require 'pasting' (which will damage your walls) or drilling (they will leave ugly holes in surfaces when you remove them). Use simple decorations that are easy to put up and takedown.
11. FAQ
1. How to clean walls on Diwali?

Wipe the walls with a moderately saturated sponge soaked in a washing liquid solution to clean them. Avoid rubbing or scrubbing too forcefully. If you're repainting, choose paints that are easy to keep.
2. What is it about Diwali that makes house cleaning a must-do activity? 

Goddess Laxmi, according to popular Hindu religion, resides in cleanliness. As a result, the cleaner your home is, the more likely it is that the deity will bless it. In addition, Goddess Laxmi is revered as the goddess of wealth.
3. How Can You Decorate Your Home In A Way That Makes Cleaning Easier?

Invest in tiles. In your living room, tiles might be used instead of wall-to-wall carpeting.
Upholstery materials that are simple.
Make use of specialized casters.
Maintain a clutter-free environment in your home.
Make a storage plan.
Make use of a simple concept.