Are you a bride-to-be and want to find some of the best bridal Mehendi designs? You can now put an end to your search right here. We know you've pinned some of the newest bridal mehndi designs to your Pinterest board, but these will take your breath away. There are a myriad of alternatives to pick from, ranging from simple to full hand mehndi patterns.
The main purpose of applying Mehendi is to benefit from its natural medicinal herbal cures, which help to relax the body and relieve stress before the big day. Henna is used to calm the nerve endings of the body and prevent them from tensing up. It is applied to both the hands and the feet.
It's time to beautify your hands, and we're sure the exquisite henna pattern will catch everyone's attention. Get inspired by the most recent best Bridal Mehndi trends and concepts that have been hand-picked only for you.
1. Elephant Mehendi Design
The Elephant bridal mehndi design looks great on the feet and legs. The royal-looking hathi can be made in a variety of stances and surrounded by various designs to give it a royal appearance. Elephant and Ganesha designs on the feet and hands can also be used to create a unique aesthetic. The Peacock Mehendi Style with ornate feathers is another design that looks stunning with paisley and other designs.
2. Arabic mehendi designs
Arabic Mehendi designs are the best mehndi designs for a bride. It belongs in Arab countries, has become extremely fashionable during wedding seasons. It's easy to tell the difference between Arabic and Indian Mehendi designs. If you look closely, you'll notice that the Arabic Best Bridal Mehndi is constructed in such a way that they are completely spread out across the hand, complete with cashew designs and a lot of shading. This style of design is particularly popular among young Indian women.
3. Raja Rani Mehendi Design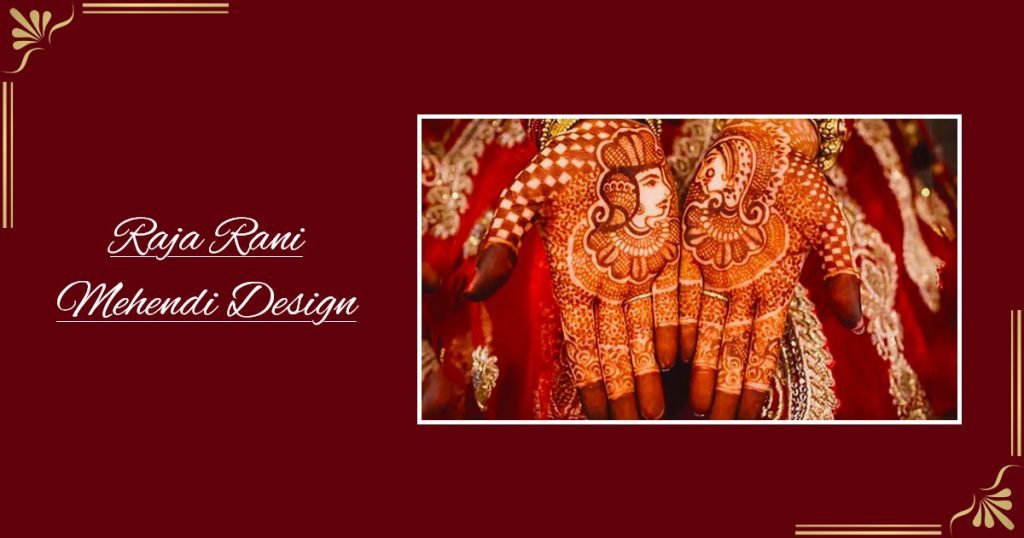 This is one of the best bridal mehndi design ideas. On the left and right hands of this Mehendi design, there are portraits of a monarch and queen. You have the option of having the Raja Rani done in Mughal, Rajasthani, or Punjabi style. If you have a talented Mehendi artist on staff, you can even have your own photo, as well as the groom's, made as a queen and king for your bridal Mehendi.
Read More- LATEST PARTY WEAR WEDDING BRIDAL LEHENGA DESIGNS IN 2021
4. Western mehendi designs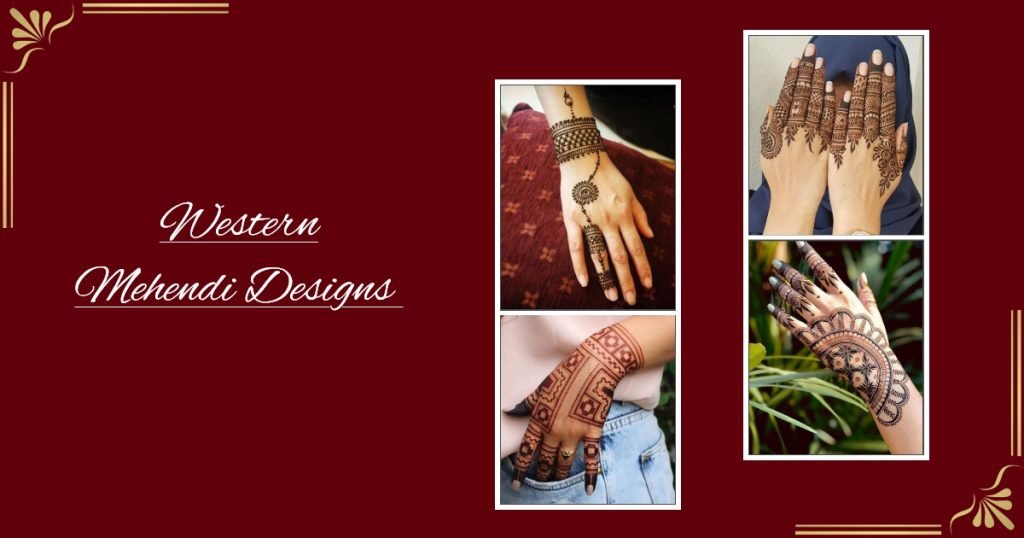 Bracelet Mehendi, chandelier Mehendi, and other trendy Mehendi designs are all the rage right now. Mehendi is a unique expression of deep appreciation for Western civilization, even a method of ingenuity. Henna tattoos were first introduced in the west as a result of this enthusiasm in desi Mehendi. They're also commonly used during celebrations.
5. Glitter Mehendi Design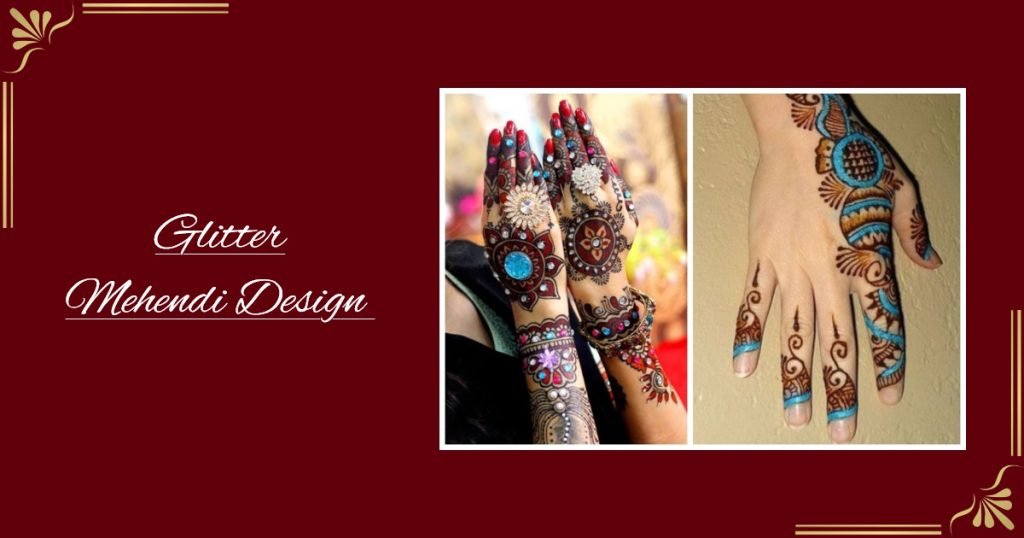 A Glitter Mehendi Design is not the same as the stick-on variety that comes as normal. Applying Mehendi and then emphasizing the vacant regions or decorating particular motifs with glitter dots or rhinestones creates a Glitter Mehendi Design. The nicest bridal mehndi design ideas that you can match or contrast the colors of the glitter with your bridal trousseau.
6. Rhombus Centered Design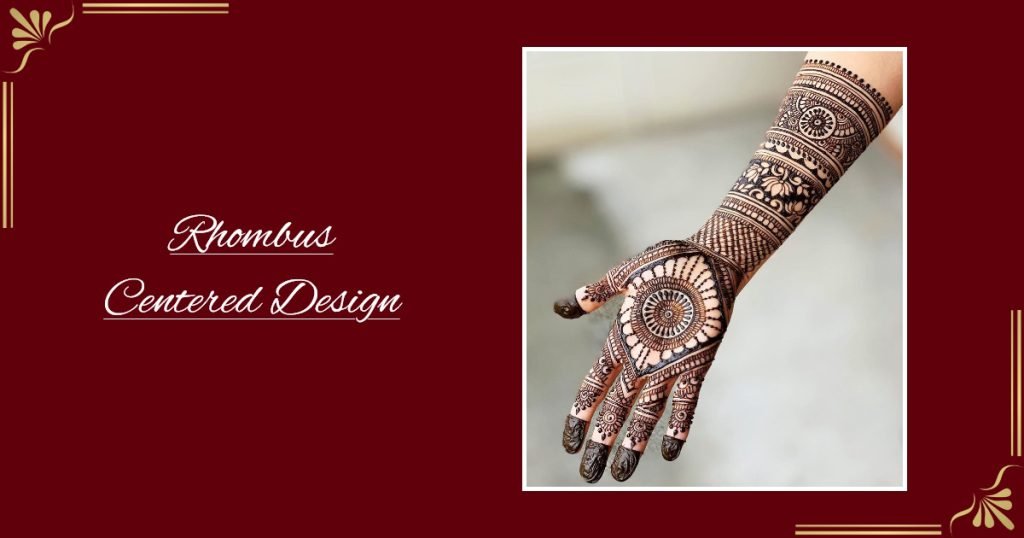 I would say this central bridal mehndi design is rather straightforward. This one stands out because all of the classic motifs are included within the diamond form. The fingers, on the other hand, have identical appearances, which is fantastic if we desire symmetry in this design.
7. FAQ
Q1. How far in advance should the bride apply mehndi?

Apply Best Bridal Mehndi Designs for this Wedding Season 1-2 days before the big event, as this is when the color will show up the most. – Avoid waxing, manicures, and pedicures if you want your mehndi to last longer. All of these might remove the color from your mehndi and cause it to fade.
Q2. When it comes to Mehendi, how long should we keep it on hand?

When it comes to Mehendi, how long should you leave it on your hands? Allow at least 2-6 hours for the Mehendi to dry. The stronger the color becomes the longer you keep the henna on your skin.
Q3. How do you remove mehndi?

Quick and easy ways to remove henna include:
Soap and warm water.
Baby oil. 
Lemon juice. 
Exfoliating scrubs. 
Baking soda. 
Micellar water.
Q4. What causes the mehndi to turn red?

The pigment lawsone is found in mehndi. Lawsone has a habit of coloring our skin for a short period of time. It absorbs into porous surfaces, such as the skin and hair. Our skin begins to flake as a result of natural exfoliation, and new skin replaces the old, and the color of mehndi fades as well.
Q5. Is it true that coconut oil darkens henna?

If you apply mustard oil, Tiger Balm, or Vicks VapoRub after removing the paste, the menthol will interact with the henna design and darken it even more. Coconut, almond, or olive oil can also be used. After 15 minutes, dab and remove the oil using a paper towel.