Are you looking for the best places to celebrate new year in India? We will let you know what's a better time to visit India than the last month of the year? Traveling to a new location is a fantastic way to start the ways to prepare effectively for a New Year! India is home to some of the world's most stunning locations. You can choose from a variety of venues to design the ideal New Year's Eve in 2022. (1st January, Friday). As a result, we've put together a list of some of our favorite venues to celebrate the New Year in India.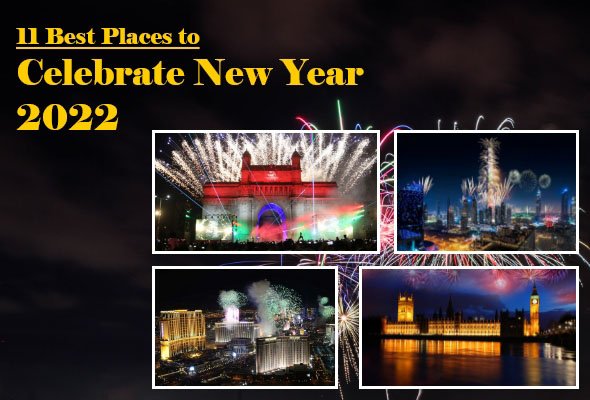 List of best places to celebrate New Year's Evening
1. MANALI,(HIMACHAL PRADESH)
In the snow-covered city of Manali, bid farewell to the year 2021 and welcome New Year 2022. However, a private celebration with your family, friends, or life partner is ideal. You can also celebrate New Year's Eve with family and friends, at one of the hotels, which organizes special events for visitors. Plan a street hike to nearby areas such as the Solang Valley and Kufri. This will make your eve even more stimulating by putting energy into the snow-covered streets.
2. COORG, (KARNATAKA)
If you want to celebrate the New Year's Evening in a lovely climate, Coorg/Kodagu is the place to go in Karnataka. Coorg is noted for its picturesque splendor, which includes sandalwood forests, deep teakwood, thousands of acres of coffee and tea plantations, and foggy hills. It is one of the best spots in India to celebrate the New Year in 2022, particularly for nature lovers. Enjoy the unique and tasty Kodava cuisine, which is known for its chutneys and pickles.
3. GOA
In India, Goa is the most popular destination for New Year's celebrations. This teeny-tiny oasis is one of the best spots to celebrate the New Year in style. The beautiful beaches, throngs of high-spirited tourists, nice weather, and distinct culture all contribute to the feeling that Goa is the best place to ring in the new year.
4. WAYANAD, (KERALA)
Wayanad, or green paradise, has grown in popularity as one of India's best places to celebrate New Year's Eve. This picture-perfect location is ideal for a tranquil New Year's Eve celebration. With various Ayurveda treatments, feel revitalized from the inside out on this most desired eve of the year. Wander through the lush green spice plantation or simply take in the scenery.
5. RANN OF KUTCH, (GUJARAT)
Every new year, the Rann Utsav is held at the Rann Of Kutch. The Rann Utsav celebration takes place in Kutch, Gujarat, India. When you visit beneath the full moon, it's a carnival of music, Danaturalature beauty of White Rann, and much more. The glittering beauty of Kutch Rann Utsav provides wonderful moments of this festival, which feels like heaven on Earth during festival time. It is one of the Best Places to enjoy the new Year.
Read More- BEST NEW YEAR WISHES IN 2022
6. UDAIPUR, (RAJASTHAN)
Udaipur, the City of Lakes, has a memorable New Year's Eve. The landscape is enhanced by the shimmering lakes and blazing sun, and the weather becomes slightly colder and more pleasant as the night approaches. Udaipur, already one of India's most popular tourist destinations, is brimming with gorgeous stay options for every budget, and practically all of them have something extra planned for New Year's Eve.
7. GANGTOK (SIKKIM)
Gangtok is located at an elevation of 1,437 meters in Sikkim's Eastern Himalayan Range. This city is Sikkim's most popular tourist attraction, and it attracts a large number of visitors on New Year's Eve. It's a hill retreat for people seeking a peaceful and pleasant vacation to ring in the New Year 2022 Celebration.
8. BENGALURU, (KARNATAKA)
Prepare to celebrate the impending New Year in the country's IT capital. Bangalore is one of the Best Places to enjoy the New Year, with good weather and a bustling atmosphere. Bangalore has many options for igniting your joyful spirit, including lush green parks, pubs, cafes, entertainment centers, and opulent getaways.
9. PONDICHERRY, (TAMIL NADU)
The beach-side gatherings are the main attraction in Pondicherry on New Year's Eve, setting it apart from other Indian New Year's Eve attractions. The whole night is filled with fireworks and bonfires along the shoreline, as well as activities throughout the city. Insane street acts in the city are an unforgettable spectacle to behold.
10. GULMARG, (JAMMU AND KASHMIR)
Gulmarg is a travelers' delight, truly a heaven on Earth. This is the Best Place to enjoy the new Year if you want to engage in some adventurous activities with your children. This is not just a winter wonderland in December, but it is also one of the top skiing locations in the world. It's also completely covered in snow, thanks to this year's fresh snowfall in the town. Enjoy yourselves!
11. ANDAMAN & NICOBAR ISLANDS
Start the new year, in the islands of Andaman and Nicobar, it has a lot to offer. If you want to ring in the new year in peace and tranquility, here is the place for you. This location is known for its water activities and rides. Sea Shell, Peerless Resort, Sinclairs Bay View, Sea Princess Beach Resort, and other locations to visit may be found here.
New Year's Eve 2022 will be different, but one item will remain the same. You have the opportunity to plan the Best Night Ever. This time, from within and around your city, with some safe and solid encounters. We wish you a happy new year and lots of new adventures!!!!