Not sure what to do on a date night? Consider watching Romantic Movies on Netflix. Even if the "Netflix and relax" jokes of a few years ago have undermined a bit the romance of cozying up for a great evening of streaming and snacks, we say screw it, and order in, and press play on one of the best romantic Netflix movies streaming right now! with most viewed web series in India.
we got you a list of 15 romantic movies to binge on Netflix –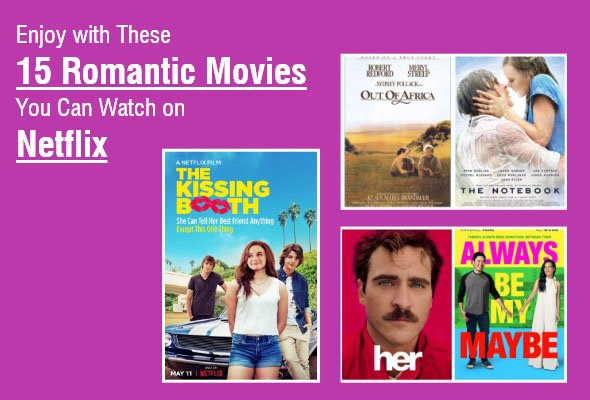 1. The Notebook
One of the best love story movies of all time is 'The Notebook'. Adapted from Nicholas Sparks' 1996 novel, The Notebook. There were two young lovers in the film, Ryan Gosling and Rachel McAdams: Each key actor has excelled in their portrayal of a passionate and heart-wrenching love story in 'The Notebook'.
2. Love per Square Foot
Next on the list of the top romantic movies to watch on Netflix India is Netflix's original Hindi film "Love per Square Foot." Featuring an impressive cast and a compelling story, the film follows Sanjay Chaturvedi, played by Vicky Kaushal, and Karina D's character, Ouza (Angira Dhar).
3. Love Guaranteed
If you're in the mood for a romantic comedy, Netflix is the place to go: Here, a lawyer takes on a client who wants to sue a dating site that claims its customers will find true love, and he has to defend him. In the courtroom, however, she may have found her soulmate.
Read More- TOP 10 HINDI WEB SERIES ACCORDING TO IMDB OF ALL TIME
4. To All the Boys I've Loved Before
To All the Boys I've Loved Before is one of Netflix's most popular originals. We follow Lara Jean as she writes letters to boys she likes. These letters are kept in her closet since she doesn't want to send them to those boys! However, it is a terrific young love tale movie that you will enjoy watching on Netflix.
5. Tu Hai Mera Sunday
While trying to locate somewhere to play football in peace in Mumbai, five thirty-something friends discover gender boundaries and societal mores along the road in this lighthearted rom-com narrative. Shahana Goswami, Avinash Tiwary, and Vishal Malhotra star in the film, along with Rasika Dugal and Maanvi Gagroo.
6. Luck by chance
Actor Vikram (Farhan Akhtar) aspires to be successful in Bollywood. However, it interferes with his relationship with Sona, who is a struggling actress.
7. Set It Up
Set It Up's setup is excellent: In order to acquire more free time, two workaholic assistants try to induce their bosses to fall in love with each other by using their personal calendars and other tools at their disposal (such as personal calendars). Of course, the assistants fall in love with one another, too.
8. Tamasha
Imtiaz Ali's films are notoriously difficult for me to evaluate. I have to take a break after watching the film to collect my thoughts before I can share them. Tamasha fell into a similar category, where my head was baffled for a good thirty minutes because that's what creative films are supposed to accomplish.
9. Kissing booth
If you're looking for one of the best romantic movies on Netflix for teen audiences, this is it. Netflix, according to The Hollywood Reporter, reported that this was the most re-watched movie of 2021 on their service.
10. A Star Is Born
Bradley Cooper and Lady Gaga feature in this fourth version of the 1937 classic story about an alcoholic fading star (Cooper) meeting and discovering a future star (Gaga) (Gaga). Cooper makes his directing debut in this film.
11. Chalte chalte
Raj, the owner of a trucking firm, falls in love with Priya, a fashion designer, and marries her. Differences between them result in a breakup that threatens to end their relationship. But will the love between them survive?
12. After
If you're looking for a lighthearted soap opera, this is the film for you. A college student falls in love with a "complex bad boy" in the film After. Adjust your expectations accordingly, as it is based on a book series that began as One Direction fan fiction.
13. Dev D
Anurag Kashyap's Dev D, a more contemporary version of Sarat Chandra Chattopadhyay's excellent Bengali novel Devdas, went on to become one of the most cherished cult masterpieces, deserving of all the praise it continues to earn to this day. Dev D is one of the finer perspectives on the subject, and unlike any other Devdas movie, thanks to its well-written screenplay, superb performances by Abhay Deol and Mahie Gill, and Amit Trivedi's unique soundtrack.
14. Is love enough? Sir
The best part of Sir is a romantic relationship between a maid and her master, with class and race contrasts challenging our biases. One of the many things of this film that is excellent is how the central plot is described of this Romantic Movie, which involves Tilotama Shome's heroine falling in love with her boss and being concerned about the reactions of others.
15. Definitely, Maybe
Another rom-com, this beautiful tale follows a single father as he tells his daughter about three former loves in his life, one of which turns out to be with her mother. It was filmed in 2008, but it is set in the 1990s, so it will appeal to anyone who remembers the grunge era.
Must watch these best romantic movies !!
Happy Movie time !!