With the sun killing us with its heat, Healthy snack ideas are what we always look to the rain to give us some cool. This brings us to chill and enjoys the weather. With such a beautiful climate, we really crave some healthy winter snack ideas including hot snack dishes which we can eat with a hot cup of tea. And in India, every state has their own monsoon dishes which suit their taste. There are various options during the monsoon season such as healthy eating snack ideas like hot pakoras, bhaji, samosa, corn, dhokla, vadas, and the list goes on and on till you enjoy the recipes.
1.Healthy Snack Ideas to Make your Rainy Monsoon Special
1.1 Pyaaz Ki Kachori Recipe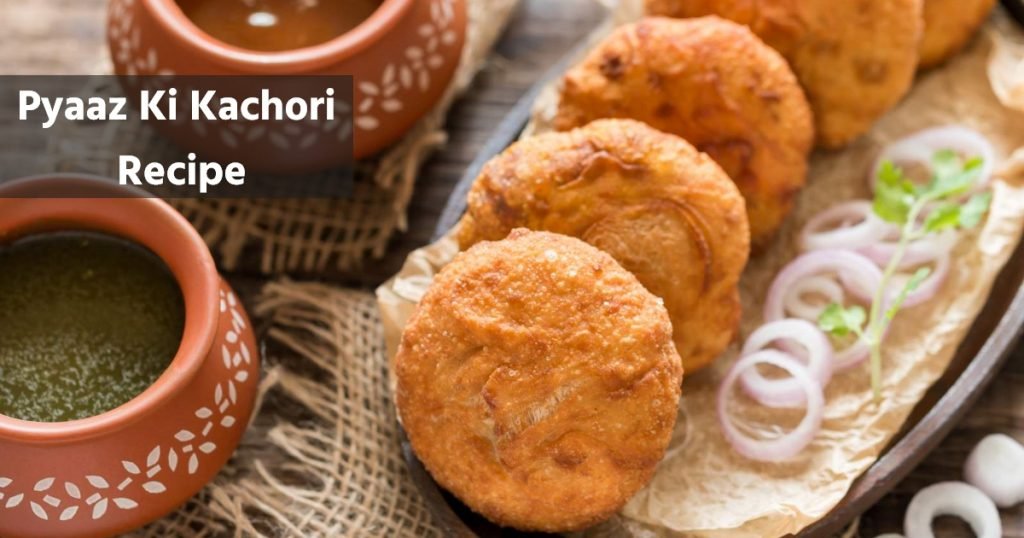 1.1.1 Ingredients
3 Onions , finely chopped
1-1/2 cup All Purpose Flour
1/2 cup Whole Wheat Flour
1 teaspoon Cumin seeds
1/2 teaspoon Kalonji
1/2 teaspoon Fennel seeds
1 tablespoon Kasuri Methi
1/4 teaspoon hing
1 teaspoon garam masala powder
1 teaspoon Coriander Powder
1 teaspoon Red Chilli powder
1/2 teaspoon Amchur
2 teaspoons Ginger garlic paste
1 teaspoon Whole Black Peppercorns
1 pinch Baking soda
2 tablespoons Oil
Oil , for frying
2 sprig Dhania Leaves
1.1.2 Method:
heat a cast iron pan with 2 tablespoons of oil. Once the oil is hot, saute it for a few seconds.
After that add ginger paste, garlic paste, red chilli powder, onions till the onion turns light brown.
Now add amchur powder, coarsely crushed fennel seeds, kalonji, coriander powder.
Crush black peppercorns, garam masala and mix it well.
Add kasuri methi, chopped fresh coriander and mix again to get it well blended.
Serve this yummy and crispy Pyaaz Ki Kachori including dhaniya pudina chutney.
1.2 Palak Pakoras Healthy Snack Ideas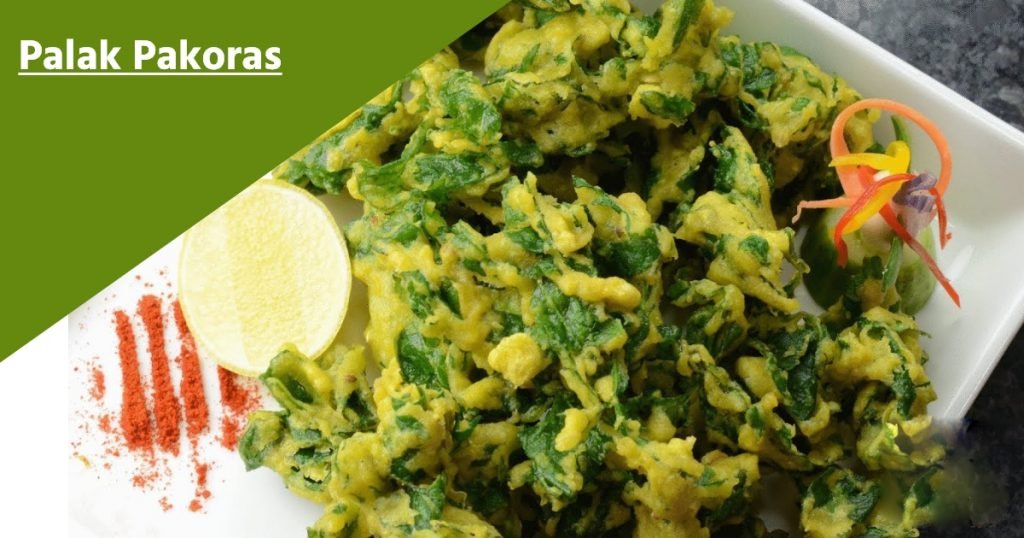 1.2.1 Ingredients:
½ cup of besan
½ cup of rice flour
1 cup chopped spinach
1 cup chopped onions
1 finely chopped green chilli
2 cloves of garlic (grated)
1 inch of ginger (grated)
¼ tsp hing
½ tsp fennel seeds
Vegetable oil (for frying)
Salt and chaat masala as required
1.2.2 Method:
Take a large mixing bowl and combine chopped spinach, onions, besan, rice flour, green chilli, fennel seeds, ginger, hing and salt as required. Mix all the ingredients well to make Healthy Snack Ideas.
Now keep adding a little bit of water to the bowl and mix all the ingredients again until they all combine together into a smooth batter.
Take a spoonful of the batter in your palm and shape it into small round balls.
Prepare a baking tray with parchment paper on it and spray some cooking oil. Place the pakoras on the tray and bake it in a preheated oven for 18-20 minutes.
Sprinkle some chaat masala and serve it piping hot with ketchup and mint chutney.
1.3 Spinach And Paneer Samosa Recipe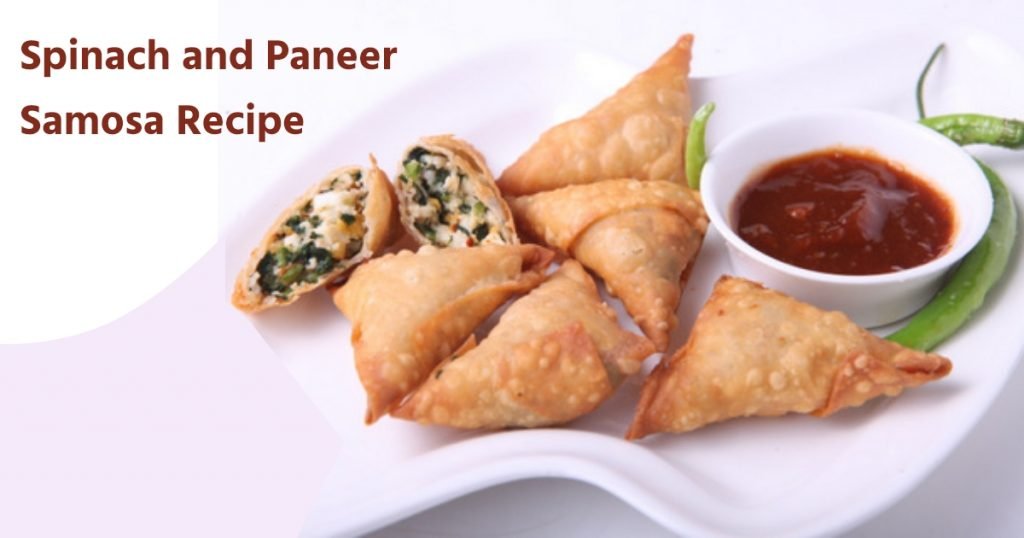 1.3.1 Ingredients For the dough
1 cup Whole Wheat Flour
2 tablespoons Sooji (Semolina/ Rava)
2 tablespoons Extra Virgin Olive Oil
1/4 teaspoon Ajwain (Carom seeds)
Salt , to taste
Water , to knead
1.3.2 Ingredients for the Stuffing
1 cup Spinach , washed and finely chopped
1 cup paneer, crumbled
2 Green Chillies , finely chopped
1/2 teaspoon garam masala recipe
1 teaspoon Chaat Masala Powder
Salt , to taste
Extra Virgin Olive Oil , for deep frying
1.3.3 Method
Prepare the dough by mixing together the flour, salt, oil and ajwain/ carom seeds to form a mixture of coarse crumbs.
Add in water to the dough a little at a time to make a soft and firm dough.
Once the dough comes together knead it and continuously for 2-3 minutes and cover it with a moist muslin cloth.
Allow the dough to rest for about 15-20 minutes.
Heat oil in a pan; add in the chopped spinach and high heat until the spinach softens.
Once the spinach has softened all the water is evaporated, turn off the heat. Allow the spinach to cool completely.
Once the spinach has cooled, combine all the filling ingredients with the sauteed spinach.
Check the salt and spice levels and adjust to suit your taste. Keep this aside.
Read More- HOW TO CHOOSE MUSHROOMS FOR COOKING AND HOW TO USE, AND STORE THEM
1.4 Corn Soup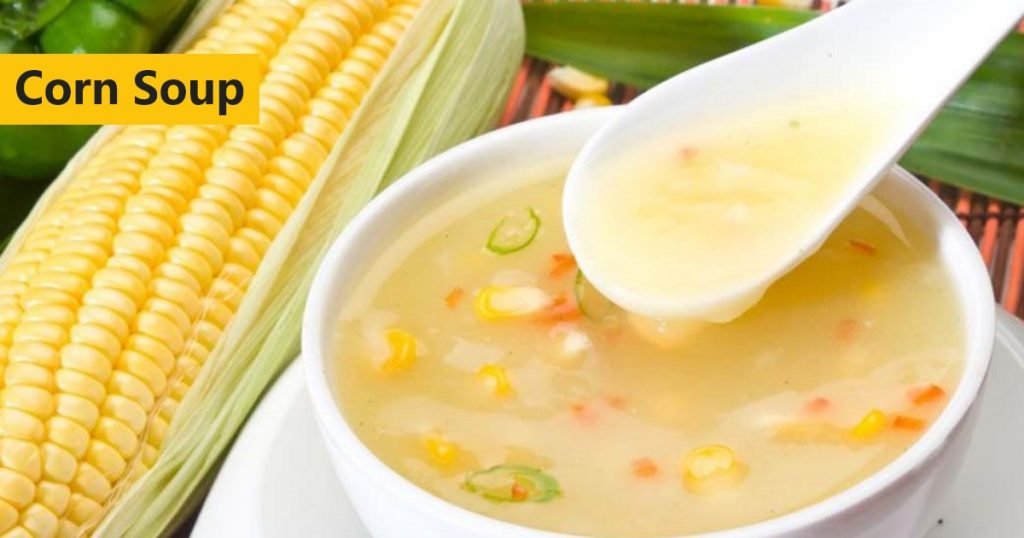 1.4.1 Ingredients:
1 corn cob
¾ cup of chopped onions
1 tbsp melted butter
3 garlic cloves
2 cups of vegetable stock
2-3 sprigs of thyme
Salt and pepper as required
1.4.2 Method:
Apply a thick coat of melted butter on the corn cob and sprinkle salt and pepper on it.
Roast the corn cob for 10-12 minutes, after which, allow it to cool down.
In the meantime, heat some butter in a pan and lightly sauté onions until they turn semi transperant.
Now add the garlic and corn kernels to the pan and toss the ingredients .
Add salt and pepper to the mixture and allow it to cook for another two minutes.
Allow it to cool down, and then blend the mixture to a fine consistency.
Transfer the blended mixture back to the pan and cook it on low flame for 6-8 minutes.
Sieve the mixture for smooth consistency or serve it as if you like your soup chewy.
Sprinkle a pinch of black pepper powder and serve it piping hot.
1.5 Grilled Fruit Bites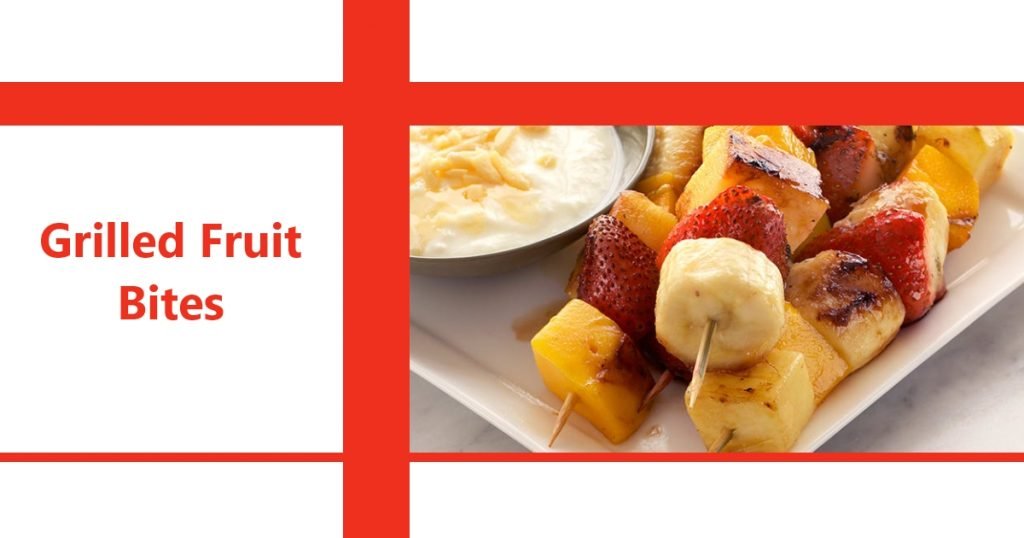 1.5.1 Ingredients:
1 cup of diced apples
diced pineapple
diced pear
1 cup of diced guavas
½ cup of cheese cubes
¼ cup mustard oil
2 tbsp white vinegar
1 tbsp honey
1 tsp anardana powder
1 tsp sugar
1 tsp black pepper powder
¼ tsp black salt and cumin powder
¼ tsp red chilli powder and garam masala
Pinch of hing
Salt as required
1.5.2 Method:
Take a small bowl and mix mustard oil, vinegar, honey, sugar, anardana powder, red chilli powder, black pepper powder and cumin powder.
Mix all the ingredients together till they combine.
To this mixture, add salt, black salt, hing and garam masala and mix it well.
Coat each of the fruit pieces and cheese cubes in this marinade and arrange them neatly in a toothpick.
Heat a grill pan and place these arranged toothpicks. Grill both sides.
Sprinkle some chaat masala and serve it warm as a good healthy winter snack ideas.
2. Bottom Line
These recipes will complete you and without any doubt give you a number of nutrients that hit the monsoon. It's important for your immunity. As rain bring many diseases. With this pandemic, it has become even more cruical to be fit and eating healthy. So make these delicious evening snacks into side dishes for your meal. Try making all these healthy evening snack ideas craving vegetarian snacks and let us know which ones you liked the most!
Happy Monsoons, everyone!