Navratri 2021 is one of India's most important and well-known festivals, with worshippers of the Goddess Durga worshipping her nine manifestations over the course of nine days.
Devotees maintain a fast, execute a devotional rite known as puja, and commemorate Durga's nine manifestations of feminine power to the world at this time.
1. What are the rules of the fast?
Observers of Navratri Celebration traditionally fast for nine days, as per the instructions below:
Every day before 9 a.m., take a bath.
Stick to the alkaline Navratri diet, which includes nuts, fruits, dairy products like milk and butter, and certain flours.
Every morning, beginning on the first day, light a lamp and keep it lit until the ninth day.
Read the Durga chalisa slokas or other mantras you know and offer them to Goddess Durga.
Serve food to girls at the end of the event, as it is believed that the goddess Durga resides in them.
Because Durga is said to visit every home, keep your home clean at all times.
If you're fasting, don't eat anything substantial before sunset.
Alcohol, narcotics, eggs, non-vegetarian cuisine, onions, and garlic are all prohibited.
Another widespread idea at the time was that you should not trim your hair.
It is also said that trimming nails or sewing should be avoid at this time.
Drink plenty of water, coconut water, chaas, and fruit milkshakes to stay hydrated.
However, do not deprive yourself of food. Every two hours, continue to eat nuts and fruits.
No fried foods are allow . To detox, eat home-cooked meals and drink plenty of water.
Read More- NAVRATRI 2021: COLORS OF NAVRATRI AND CHECK OUT THEIR SIGNIFICANCE
2. Navratri Celebration in Northern India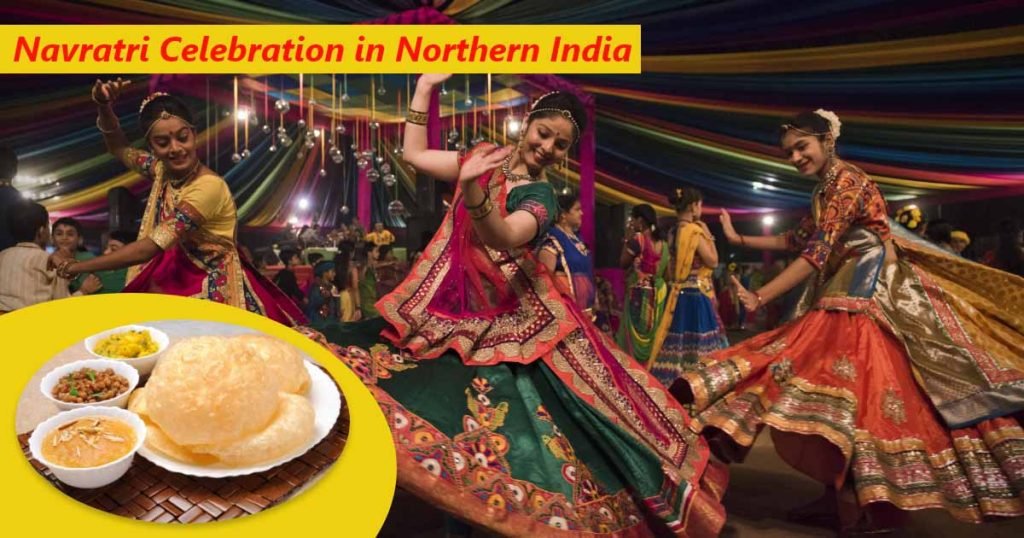 In North India, Navratri Celebration commemorates Lord Rama's victory over the evil king Ravana. The Ramlila, which is enacted ceremoniously during Dussehra, is the culmination of the festival. On the 'Vijaya Dashami' day, effigies of Ravana, Kumbha Karna, burn to commemorate the victory of good (Rama) over evil forces.
The custom of distributing presents on Navratri 2021 will be quite popular in the north. Sweets, Indian clothing for men and women, and something useful for the house is all possibilities.
3. Navratri Celebration in Western India
Navratri is celebrated in Western India, mainly in Gujarat, with the famous Garba and Dandiya-Raas dances. Garba is a graceful style of dance in which ladies gracefully move in circles around a lamp-filled pot. The word 'Garba' or 'Garba' means womb, and the lamp in the pot represents life within a womb in this context.
The Dandiya dance, in which men and women dance in pairs with small, decorate bamboo sticks called dandiyas in their hands, is an alternative to the Garba. Tiny bells called ghungroos are to the ends of these dandiyas, which generate a jingling sound when the sticks hit each other. There is a complicated rhythm to the dance in the Celebration of Navratri.
4. Navratri Celebration in Eastern India
In West Bengal and North East India, Sharad Navratri is Durga Puja. Devi Durga riding a lion and wielding numerous weapons. The lion represents dharma, or willpower, while the weapons represent the attention and severity required to eliminate negativity from our thinking. Durgashtami is the eighth day of the Hindu calendar.
. In temples and other locations, life-size clay idols of the Goddess Durga represent her to destroy the monster Mahishasura. These idols are worship for five days before immersing in the river.
5. Navratri Celebration in Southern India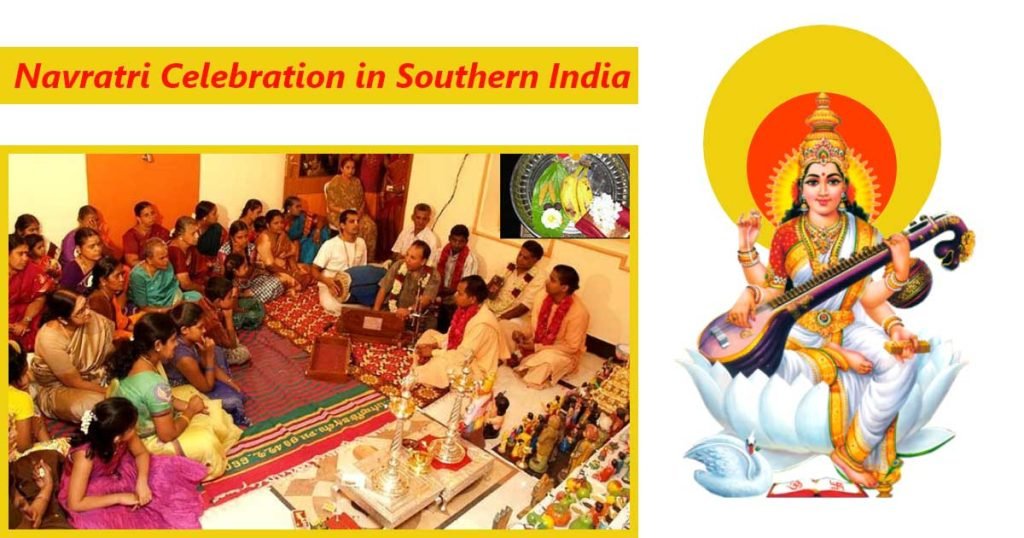 In south India, the Celebration of Navratri is a time to bring friends, relatives, and neighbors over to see the Kolu, which is essentially a doll and figurine exhibition. Bombe Habba is the Kannada name for this show, Bommai Kolu in Tamil, Bomma Gullu in Malayalam, and Bommala Koluvu in Telugu.